Welcome to CAEaid, Inc.

As an engineering consulting company and also a
COMSOL Certified Consultant
, CAEaid, Inc. offers experienced consulting services ranging from Design Engineering, CAE Simulation, Material Modeling, and App Development. Moreover, CAEaid also provides technical training of COMSOL Multiphysics in Austin, TX.
Product designs and manufacturing processes are growing in complexity, which significantly increase the challenges of performing prediction and optimization. By use of CAE simulation via COMSOL Multiphysics and the add-on modules, CAEaid is able to help clients predict and solve potential problems that might be unsolvable with current experiment technology, provide reliable engineering solutions and constructive design advice, reduce design costs, and shorten design cycle times.
CAEaid always strives to remain a reputable organization by providing reliable engineering solutions, guaranteeing service qualities, and meeting clients' needs.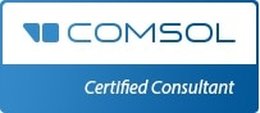 ---
Consulting Services

By combining extensive R&D experience and proven expertise in multiphysics simulation and solid modeling, CAEaid helps clients predict and optimize product designs and manufacturing process, characterize newly developed materials, and develop engineering apps. Our consulting services include

---
Simulation Case Studies
CAE Simulation has been proven crucial in virtual product design, manufacturing process and technology development to reduce design costs and shorten design cycle times. Typical models are simulated and discussed using COMSOL Multiphysics in the engineering areas below. Please click the figures to learn more.

---
Featured News & Events